The interest for paintings by Jean Thomassen is growing since quite some time, especialy abroad. Also in the Netherlands there is quite a lot of interest amongst art-collectors and musea for the very unusual (absurd) respresentations of the hardly exhibiting artist. Nowadays Jean Thomassen is reckoned to be one of the most important Dutch realistic painters.
His paintings can be devided into three groups:
Portraits, made in commission.
Unusual representations of ancient Egypt, painted with ancient dyes, like mummy, smalt and zinnober.
His commissions or free work of very unusual representations.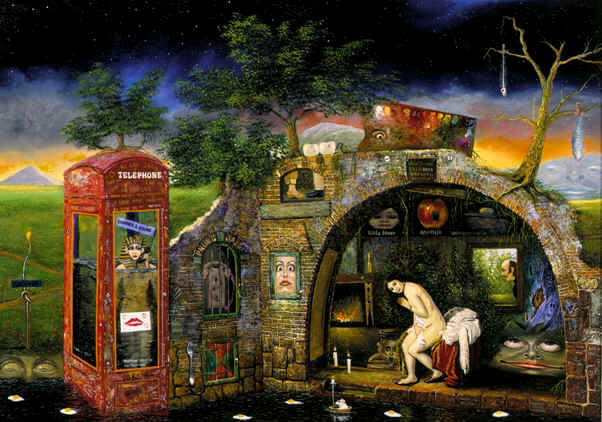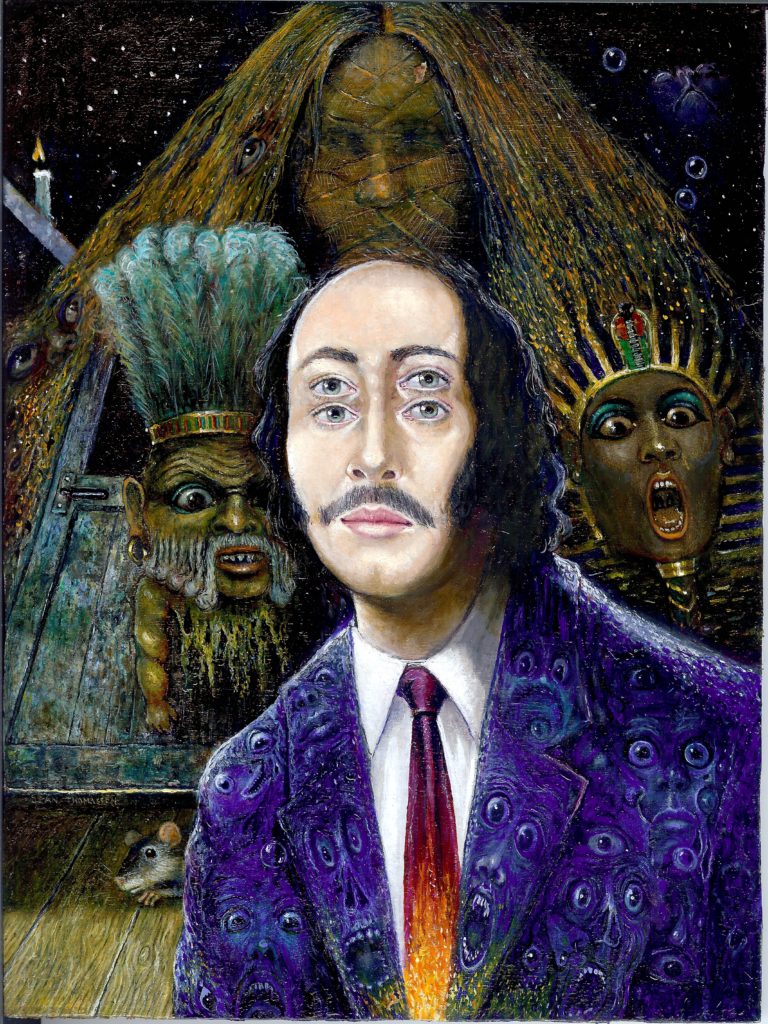 The power of the paintings by Jean Thomassen is especially found in the unusual, mysterious and oppressing reality the artist shows us in his almost insane and erroneus idea's, in wich the artist exceeds himself in everything you can think of, about apparent ordinary things. Nowadays the paintings by Jean Thomassen can be found in various musea and important collections in the Netherlands and abroad.
Actress Ine Veen visited his studio and she was immediately charmed by the paintings. She arranged his first exhibition in the legendary gallery Artim in The Hague, in those days the "home" of all well known realistic artists, like Carel Willink, Johfra and Henk Helmantel.
In 1975 there was a TV-documentary and the next day, all his paintings were sold at the exhibition in the Reekummuseum at Apeldoorn.
In 1977 a large "sales"exhibition was held in Amsterdam, at the "Job Art" gallery. The "Job Art" gallery in those days had taken the place of the, by management disagreements, vanished "Artim" gallery. Most works hanging there were sold during the exhibition.
He won awards in, for example, the US, Bulgaria and Canada. His astounding paintings were shown at exhibitions in New York, Toronto, Houston, Los Angeles, Paris and Gabrovo.
Since 1998, Jean Thomassen is worldrecordholder of the smallest oilpainting "The right eye of Ine Veen". The record of 1,2 x 1,2 millimeter is mentioned in the Guiness Book of Records and this record has not been broken yet. It was painted without a magnifying-glass.
In larger format Jean Thomassen has also proved to be a skilled artist. For instance he painted "Metamorfose", a triptych on canvas of 1,70 x 5,40 meter, for the Ennekingcollection, a painting he worked at for three years. Even on those formats he cannot leave out the details. That's why his entire work is not very large and rarely shown at gallery's.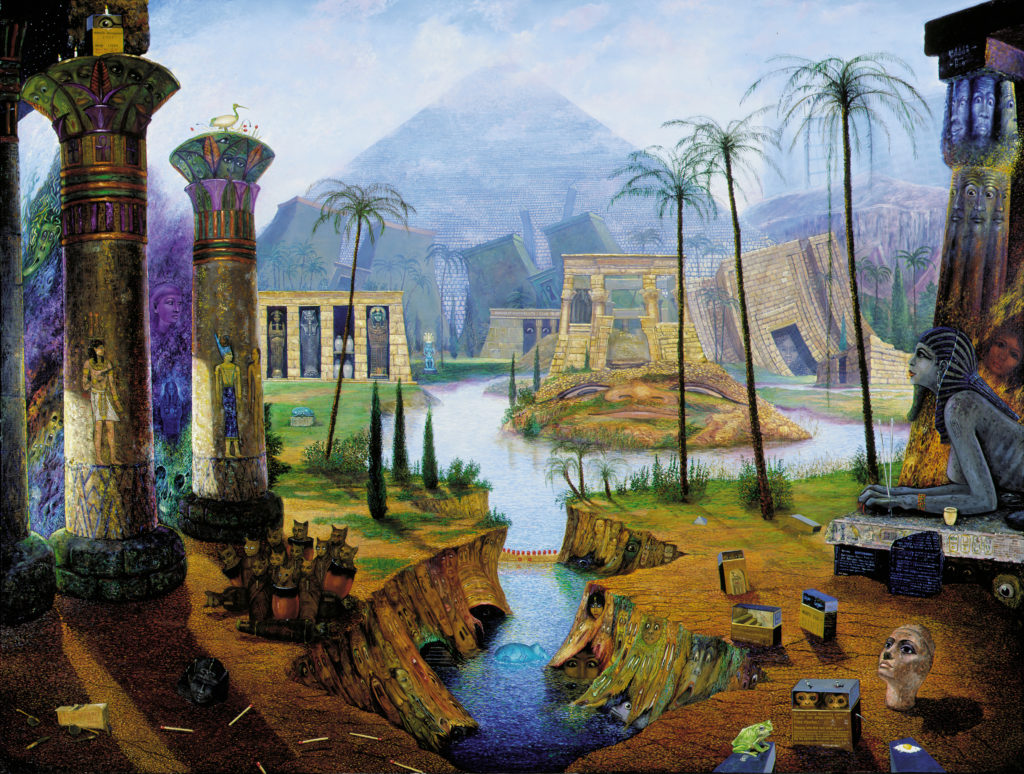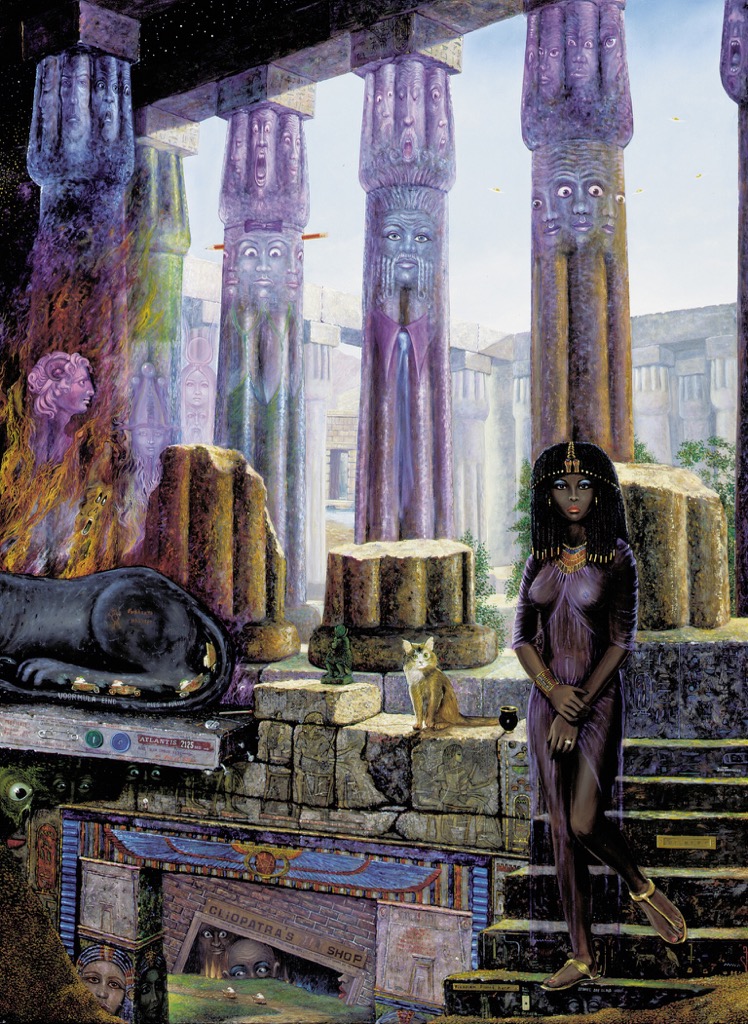 In the last few years a lot has been written about this remarkable painter. You can find an almost complete list of articles, up to the year 2000, in the book "Oude meesters van morgen". It consists several pages. An article from 1977 says: "What Jean Thomassen is presenting in his minitiatures and portraits is genius, not to be matched and so gruesomely perfect". Another critic concludes that: "The artist of those paintings must be missing from an assylum". "Jean Thomassen is either a genius or as mad as a hatter" De Telegraaf headed in an article in the Weekendannex.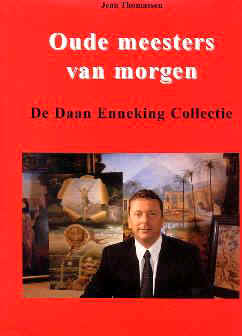 The painter has a special bond with ancient Egypt. Egyptologists will be pleased to read complete texts, but also complete rubbish or funny remarks at its spectator.